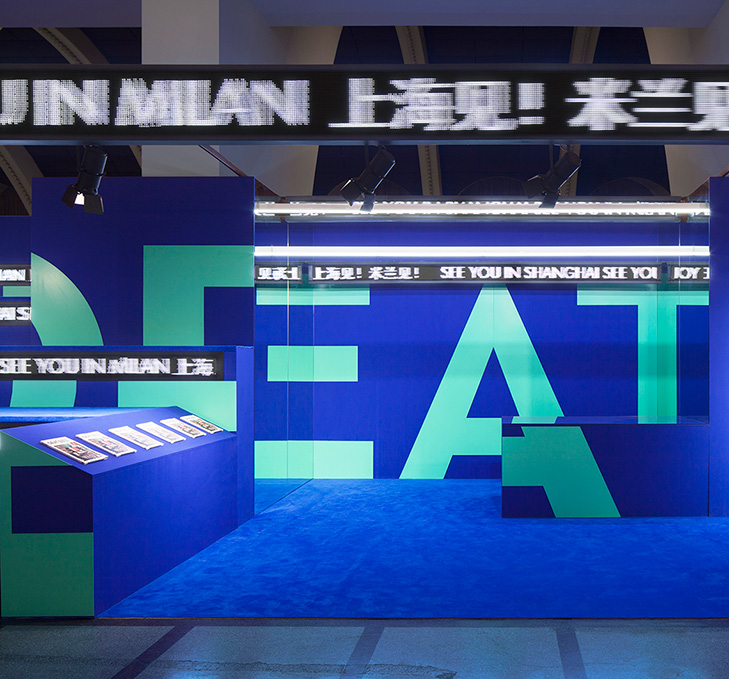 IDEAT is a leading contemporary design & lifestyle magazine that takes a 360° look at the world of creativity.
As part of the first ever Salone del Mobile Milano Shanghai, the IDEAT booth translates the magazine's vision into a dynamic spatial experience, highlighting the merging cities theme through the interaction of the digital and physical worlds.
As a result Alberto Caiola Studio created a monochrome space featuring a deep blue colour, commonly used as postproduction and special effects background colour. The space therefore becomes a blanket of neutrality and yet representative for a world of possibilities.
Scrolling led displays throughout the entire space instil the feeling of movement, while the booth itself becomes a stargate to another world. The portal of this stargate is the Photo Booth stage where the guests are digitally thrown within the Milan Design Week hot spots for them to have a first glimpse of what to expect in Milan the coming April.
Milan photos are courtesy of Fuorisalone.it
In keeping with the spatial play, the orthogonal view of the space uncovers a huge flat Ideat logo, but looking at it from an angle breaks it up into different levels creating a fragmented abstraction.
At the heart of the space are the magazine stand and the cafe area while on the left side of the space a wide bleacher welcomes the guests to sit down for a moment.