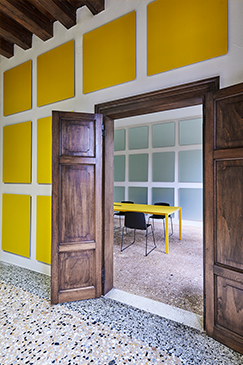 Known for its pre-dented luggage, Crash Baggage encourages customers to "handle without care." The Italian designer label's fittingly fuss-free headquarters reinforce brand identity through a focus on playfulness, process, and spontaneity, all delivered in vibrant yellow within an otherwise classical space.
Housed in a 18th-century villa close to Venice, Crash Baggage's head office combines minimalist simplicity with total flexibility. Through interventions spanning understated to bold, the work space contrasts the luggage brand's disruptive energy with the building's unmistakably classical interior.
Accentuating and optimizing the villa's high ceilings, sanded glass panels in grey mirror and the brand's signature yellow underline and foster the company's collaborative spirit. These are positioned all along the headquarter's central corridor, as well as in office spaces. Serving as whiteboards for note-taking and sketching, the panels are also magnetic. Their prominent position quite literally fixes the teams' ideas and creativity front and center to underpin Crash Baggage's core values and encourage teamwork.
The bright yellow panels in particular contrast with the villa's original dark-colored wooden doors, window frames, and ceiling beams. Another preexisting element preserved in the design is the venetian terrazzo floor which has been lime washed. Juxtaposing classic and contemporary, 3D digital clocks set to Italian and China time connect Crash Baggage's headquarters, and allude to the label's travel focus. Similarly, the door handle to enter the space takes the form of a rock and roll hand gesture, signalling the brand's rebellious philosophy.

"Crash Baggage as a brand is all about the attitude" explains Alberto Caiola. "My goal was to create a blank canvas for this attitude to fully express itself."

To reinforce brand identity, Crash Baggage's trademark yellow is repeated throughout the space. This includes striking window blinds, as well as elements that lend flexibility to the company's Italian head office. For example, a modular sofa that can be reconfigured in multiple ways according to requirement; desks of varying heights for differing tasks; and wheeled steel storage systems.

For a brand that is all about spontaneous, carefree travel, such adaptability was key. The space's central corridor has been left purposefully empty to allow for a multitude of functions, including exhibitions and events. A bar area complete with high stools can be a break area for employees to drink coffee, or a spot for less formal work meetings.

Vibrant, understated, yet playful, at Crash Baggage's Venice headquarters a restrained visual language communicates the brand's fuss-free approach. Prominent whiteboards showing an ever-changing stream of colleagues' thoughts, works in progress, and ideas reinforce the company's ethos of spontaneity, all the while celebrating the creativity that underpins this most unconventional of brands.