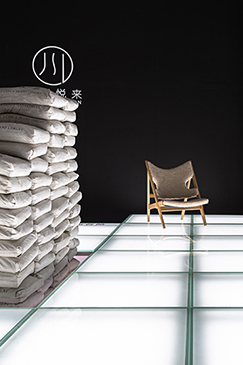 Zero-waste, maximum impact: Treading a new path towards more sustainable booth design
Incorporating repurposed and reused elements, Alberto Caiola's booth for furniture retailer Van Collection was a highlight of West Bund Art & Design's 2021 edition in Shanghai. As well as highlighting the retailer's commitment to sustainability, the presentation also amplified its creative flair through an innovative tribute to the venue's fascinating history and important location.
Partition walls made from stacked cement bags guided visitors on a meandering path through the space. Arranged at varying heights, the barriers simultaneously opened and obscured guests' views to create intrigue and entice fair-goers further into the booth. The make-shift material made reference to the venue's historical function: a dome-shaped mixer that until 2009, stood at the heart of what was once Asia's largest cement plant.
Industrial features were deliberately left in view to take full advantage of the juxtaposition between factory and furniture. Moreover, the decision to decline fair organizers' offer of temporary walls to conceal these elements significantly reduced the booth's waste footprint.
Rented only for the days of the design showcase, the cement bags contributed to a zero-waste booth. For the studio, the intervention highlights the need for incentivizing reuse over single use across the industry. "The challenge was to find a building materials supplier willing to work with us," he explains. "Fortunately cement isn't really susceptible to getting damaged, and our usage didn't affect its future resale." With the environment high on the global agenda, and at an event that coincided with 26th UN Climate Change Conference of the Parties (COP26), our design hopes to mark a move towards a more sustainable approach to industrial fairs and trade shows.
In what has now become a signature design feature for Van Collection, and reinforcing its eco-friendly credentials, the booth made smart reuse of illuminated floor tiles debuted earlier this year at Design Shanghai. Reconfigured for their new temporary setting, the tiles overturn expected conventions of display by lighting furniture not from above, but below. The resulting sensory effect is disarming thanks to an absence of shadows cast by either products or people.
Striking in its simplicity, Caiola's design invited visitors to think differently – both about furniture, as well as trade fairs of this kind. Its atypical underfoot lighting made people as much of a focal point as objects, while its stacked walls offered a reflection on the booth's storied setting, as well as the environmental responsibilities of the wider design industry.