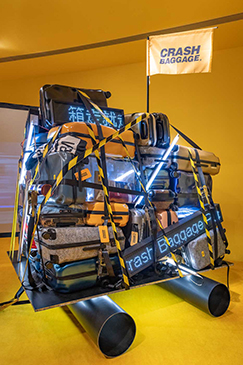 For the Shanghai launch of Italian luggage brand, Crash Baggage, Alberto Caiola took visitors to Galeries Lafayette on a memorable, immersive journey to a lunar landscape where conventions and care most definitely don't apply.
A recent installation for luggage brand, Crash Baggage, invited visitors to embark on an extraordinary adventure in an out-of-this-world landscape. Conceived by Alberto Caiola, and occupying 110sqm in Galeries Lafayette department store, Shanghai, the space invited shoppers to leave any preconceived notions of travel firmly at the door. Playful and immersive, the pop-up proved a memorable highlight for the brand's target demographic: China's young, fun, and trendiest free spirits.
An Italian brand, Crash Baggage is known for its distinctive suitcases and bags. With a tagline of 'Handle Without Care,' the label specializes in deliberately dented, ready-damaged luggage to encourage customers to worry less – and travel more. In keeping with the brand's focus on adventure and experience, the Galeries Lafayette installation took visitors on a journey to new frontiers, far removed from earthly concerns about damaged luggage, travel logistics, or even gravity. 
Set inside a bright yellow space, a solitary model pedals a stationary exercise bike, towing a lunar buggy piled high with Crash Baggage's signature cases, and precariously wrapped in hazard tape. In this other-worldly landscape, even  movement becomes nonsensical, with the traveler's progress measured not by distance, but a moving LED backdrop. Emblazoned on the floor, adjacent to the surreal setup, is the brand's 'Handle Without Care' tagline in oversized black letters. 
Extreme and absurd, the imagined terrain conveys Crash Baggage's reputation for durable products in highly resistant materials, able to withstand the most far-fetched conditions.
At the brand's Shanghai debut, visitors enjoyed complimentary beers while a DJ played next to oversized disco balls in the space storage room. Open to all, the event illustrated the products' capaciousness, and limitless potential for adventure and spontaneity no matter the setting – whether exotic destinations, lunar landscapes, or Shanghai shopping malls.
Together, these elements combined to create an immersive nonsense, inviting would-be adventurers to live in the moment, free themselves from care and conventions, and explore new frontiers.