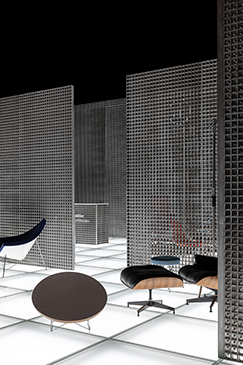 Subverting Lighting Design Principles the project lets the experience do the talking
A highlight of Design Shanghai 2021, Alberto Caiola's extraordinary booth for Herman Miller retailer's Van Collection, quite literally cast the home in a new and unexpected light. Showcasing home and office furniture by the iconic American brand the installation was debuted at this year's Design Shanghai, China's leading showcase for international design brands, architects, and interior designers.
The dazzling stand drew inspiration from the Herman Miller brand heritage, echoed through an insightful adage from the firm's first design director, Gilbert Rhode, boldly printed across the booth's back wall: "The most important thing in the room is not the furniture – it's the people." In our design, the quote became a catalyst for exploration around ways in which the Covid-19 pandemic has not just transformed and expanded the roles of home, but also flipped our lives upside-down. By playing on perspective and light, the booth frames Herman Miller furniture as smart solutions for flexible living.
In a radical departure from standard booth design, Caiola's design overturns lighting rules. Where brands typically spotlight products from above, this time displayed furniture was lit entirely from below by way of illuminated tiles. The effect was manifold: not only did it reinforce a key theme of inviting visitors to think about the home in quite literally a different and new light; it also echoed the stand's centrepiece quote by highlighting not the furniture, but people.
The underfoot lighting lent the booth a sensory, otherworldly quality, making for an extraordinary visitor experience. Because of the light source's position, people cast no shadows as they moved throughout the space. The cinematic, almost Kafkaesque effect was a nod to how many experienced the pandemic: without shadows, marking time's passage becomes all but impossible. During periods of lockdown, too, a strange combination of listlessness and urgency affected our perception of time.
The booth comprises four distinct areas or 'rooms,' separated by gridded partitions. Their imagined function indicated by a curated selection of freestanding furniture, they are a living area, gaming space, home office, and dining room. The gridded walls have the dual effect of opening up and obscuring the layout: due to partitions' depth, visitors' views into adjacent rooms is dependent on where they stand and how they look. Positioned behind one of these mesh walls, the booth's backdrop quote is similarly only visible when viewed from a particular perspective.
The gridded panels are also redolent of an upshot of the Covid-19 pandemic that will be familiar to many. That is, the catching and sharing of glimpses into newly hybridized work-life spaces through computer screens, thanks to innumerable video calls brought about by home office conditions.
Comprising freestanding pieces within a fully modular set-up, the stand has been deliberately designed for reuse. Both illuminated floor tiles as well as the partition walls can be reconfigured according to future furniture fairs' booth dimensions, building in important layers of flexibility and sustainability.