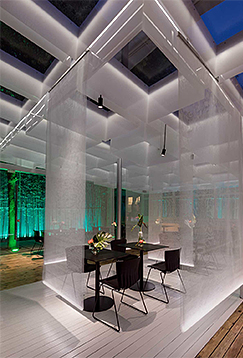 F.E.D. is a modern Shanghai eatery with a difference. Its culinary team transform flowers from the purely decorative to ingenious cuisine by incorporating edible blooms into innovative fusion dishes and drinks. The resulting interiors incorporate visual abstractions of the restaurant's central floral theme inside a bright, light, secluded hideaway.
An oasis of light and colour on Shanghai's bustling Former French concession, F.E.D. is a gateway to an immersive dining experience with distinctly floral overtones.
An abbreviation of Flowers Eat Drink, the modern eatery marks the second collaboration of the studio with July's Flowers, which began with the brand's flagship store.
Elevating flowers to not just a feast for the eyes, but also one for the mouth, F.E.D. incorporates edible blooms into its contemporary fusion cocktails and cuisine.
Approaching via an unassuming concrete entrance, diners emerge into a tranquil garden that already feels far removed from the frenzy of the street outside. Lined with bamboo along one side, the other offers floor-to-ceiling views into the restaurant's interior. Framing the space is a marble counter loaded with blooms: reinforcing the eatery's central theme, their mirrored presentation echoes that of the brand's flagship store. Come nightfall, a full spectrum of LED lights transform the space into a tapestry of color, while the brightly lit dining room beckons visitors inside.
Selected for its petal-like softness, a microfibre plush suede finish applied to ceilings and walls creates a sensory contrast to the space's stainless steel partitions. A painted wooden white floor accentuates the restaurant's black and gold-topped furniture.
Intriguing installations throughout the space reinforce F.E.D.'s contemporary floral theme, and invite guests to consider the potential and possibilities of flowers. They include a large-scale wall illustration of a monochrome bloom, apparently mid-explosion. Above, a checkerboard of translucent geometric cells filter sunlight during daytime hours, and come evening time, transform into a dramatic chandelier structure spanning the entire area.
In an otherwise open-plan space, semi-opaque screens of synthetic meshes and light tubes drop down from the ceiling to create discrete dining spots for patrons seeking a more intimate experience. The solution creates privacy, without compromising on the restaurant's attractive and airy openness.
Finally, a full-length metal bar with high-top seating invites guests to observe F.E.D.'s talented team of mixologists in action, as they muddle, blend and garnish enticing cocktails crafted with edible blooms.
In Shanghai, both testing ground and pacesetter of global trends, the edible flowers movement represents a new branch to an already rich and diverse dining scene. While food today is one the hottest digital currency and Instagram is influencing people's foods choices, F.E.D. is a must go place and a feast for the eyes before the mouth.