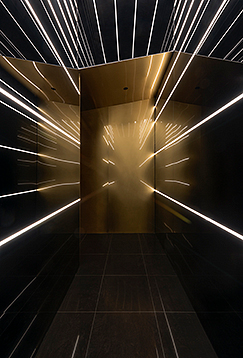 Hot on the heels of Flask speakeasy in Shanghai's former French Concession, closed in 2016, Alberto Caiola reveals the hideaway's second secretive incarnation: Flask 2.0. Refined, luxurious, and with knowing nods to the bar's forerunner, it is an experience of two halves. The first sees traditional elements of Taiwanese cuisine reworked for Shanghai's contemporary context. After eating their fill, guests enter a futuristic infinity tunnel to emerge into the space.
The storefront concept is a casual Taiwanese eatery, named after one of Taiwan's best-loved eats, gua bao: braised belly pork served in a steamed bun. Literally translated as Tiger Bites, it is so named for its resemblance to the mouth of a big cat, devouring a juicy slice of meat. The moniker and concept are illustrative of an overarching design concept that reimagines Taiwan's culinary traditions in an unmistakably contemporary context.
The theme continues inside the space, where vaulted bamboo strips frame the restaurant's service counter to resemble the wooden bands of the traditional steamers so integral to Taiwanese cooking. Illuminated by both ceiling and floor lighting, it makes for a striking centerpiece to the space. An altogether edgier installation sees a neon tiger face, apparently chomping its mouth, for an eminently shareable feature.
At Flask's first iteration, a converted Coke vending machine fitted with a concealed door proved a much-loved gateway between storefront concept and bar. For its proud encore, Flask 2.0 takes a more futuristic approach, designed with impact in mind. Guests access the space via a hidden revolving door. Inside, an extended tunnel of reflective black glass, lit by neon strips and highlighted with brass accents create an infinity effect. Moody and dark, it quite literally transports visitors to an altogether different environment.
"We wanted to take visitors on a longer journey of discovery, with an emphasis on creating a more immersive, engaging experience"
Elegant, luxurious, and evocative of the first Flask, this new venue elevates familiar tropes of a classic speakeasy to striking effect. Comfortable Chester sofas, gold chenille poufs, and marble-topped tables implore guests to relax and unwind into an evening of expertly mixed drinks, selected from an elaborate ceiling-height display of liquor bottles. Low-lit and indulgent, the space maintains a unique, contemporary edge by way of a huge golden light fixture diffusing subtle light from above.
In a city with more than its fair share of classical speakeasies, and one that is nothing if not seductive, Flask 2.0 sets itself apart through its contemporary approach.