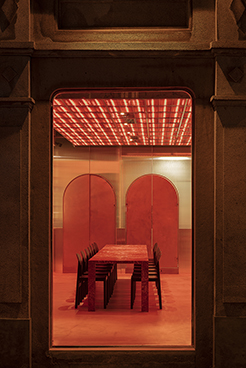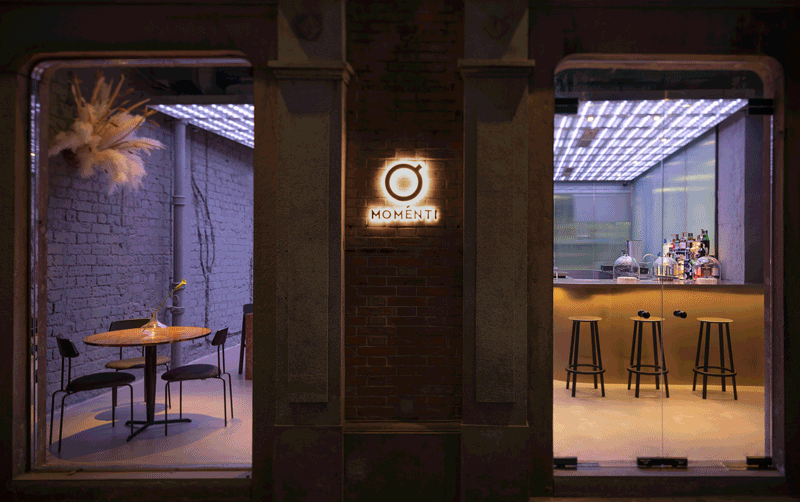 Contemporary and convivial, Momenti brings Italian authenticity to Shanghai's rich restaurant scene. Conceived as an evolving environment to match the rhythms of morning to night, breakfast to late night drinks, it is designed for shared experiences and rituals throughout the day.
Taking full advantage of Xintiandi's pedestrian streets, Momenti's attractive outdoor seating is inviting from the outset. In particular, an eye-catching red sofa establishes a recurring theme throughout the design: bringing outdoor elements inside the space, and vice versa.
This outside-in approach is instantly apparent on first entering the bistro. Flooded with natural light thanks to generous windows and a transparent glass ceiling, the connection with the outdoor environment establishes Momenti as a destination for all hours. A polished bronze counter makes a striking contrast to exposed original brickwork, with offerings evolving throughout the day. They span superb coffee and cakes presented under refrigerated cloches; speciality pastas, to expertly mixed post-dinner cocktails. High-stool seating places diners front and center as these rituals play out, with baristas play a starring role as proceedings unfold.   
A place for both service and preparation, the counter sets the tone of Momenti's approach and design: transparency. The concept extends to semi-transparent ribbed glass screens, revealing flashes of movement inside the kitchen itself.
Troffer fixtures, the most common type of light system used in commercial office spaces are here redesigned to accomodate RGB led tubes and arranged in a continuous carpet of light, unfolding to deliver an evolving narrative. Throughout the day, Momenti's shifting menu of experiences is accompanied by subtle changes in light, moving from bright white, to warm yellow and orange, before relaxing into a night-sky blue.
Below the luminous ceiling, guests eat at small-sized floating tables, or at a commanding social table of solid red marble. Opulent and striking, it recalls the conviviality of Italian food culture and its propensity for sharing.
Together, Momenti's interiors elements complement the menu of traditional Italian recipes, reinvented for contemporary Chinese diners.
With all the authenticity of an Italian eatery, with none of the cliches, Momenti is a place for daily rituals, experience and exchange.